Download Subtitles
SubDown.org is a FREE online subtitle downloader that can download subtitles directly from Youtube, VIU, Viki, Vlive and more. We supports downloading all subtitles/captions formats such as: SRT, TXT, VTT. SubDown provides an online method to download subtitles by just entering the URL of the video and clicking Download. If you want to download youtube subtitle, use our free tool.
How to use
1.
Paste
the link of video you want to download subtitles.

2. Click
Download
button to begin extracting subtitles.

3. Select the subtitles format and language you want to download, then click
Download
button. SubDown provides 4 popular subtitle formats for your option. If you do not sure which format you will need, you can choose SRT format.

4. Bilingual subtitle format download *Optional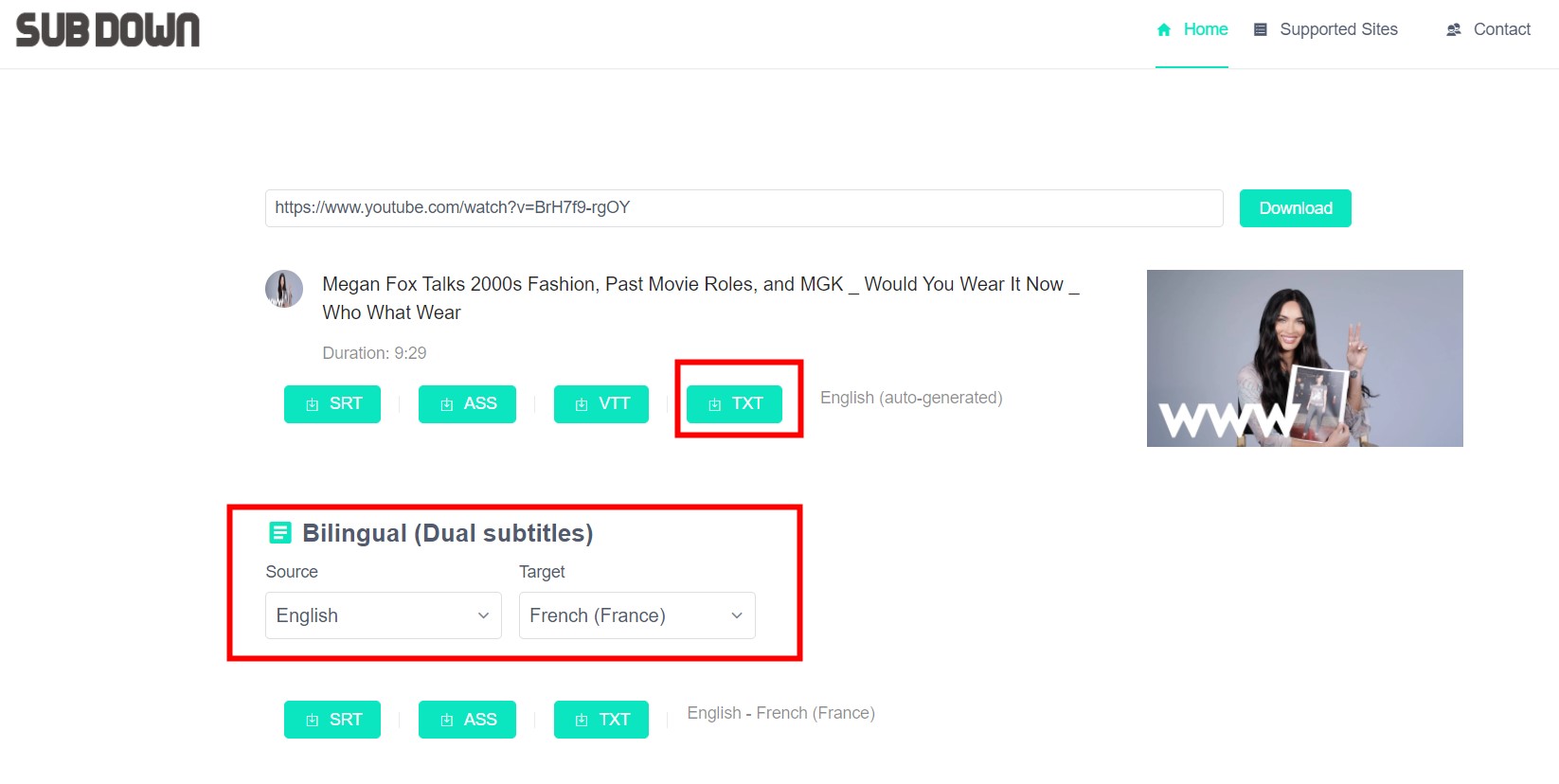 Features
Private & Secure
Subdown.org doesn't collect your personal information, so it is safe and secure to download any YouTube or Viki video subtitles and captions.
All for Free
Subdown.org provides totally free subtitle download service. You don't need to pay extra fees for any service. Please feel free to enjoy the download service.
Supported Websites
We support most of video websites which has CC (Closed Captions) subtitle download, like YouTube, Vimeo, Facebook, Viki…
Online Downloader
Subdown.org is an online subtitle download tool. No need for any software installation. Don't occupy your room of your disk.
Multilingual Translation
We support more than 30 languages' automated translation. If you want to have bilingual or multilingual subtitles for your work, you can use this service. It's free and unlimited to use.
No Limitations
Feel free to download YouTube subtitles as many as you want. Supported SRT, TXT, VTT formats.
Subtitle Format Supported
SRT: The most widespread format.
Web VTT (Video Text Tracks): Designed to add captions to HTML5 pages.
TTML (Time Text Markup Language): Formerly known as DFXP, most commonly used formats in the TV, streaming and VOD industries.
SSA (SubStation Alpha):Subtitle formats that encodes the most visual and temporal settings.
STL:EBU-STL is popular among broadcast channels and VOD services to encode their subtitles.
What SubDown can help you
Automatically Search, download subtitle for your video for free with 1 click
Translate your video into multilanguage and combine them into one srt file.